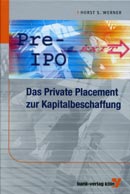 by the lawyer
Dr. jur. Horst S. Werner
Bank-Verlag Köln,
2nd edition 2006
196 pages,
ISBN 3-86556-118-7
39,- €
The so-called pre-IPO (Initial Public Offering) at the free capital market and at the pre-market is considerably gaining importance in Germany, after the U.S.A and England. Consequently, an additional financing method for medium-sized companies arises from a private placement to raise equity capital from a widely spread investing public. This is another pillar of financing methods.
The number of equity issues in the form of private placements is growing rapidly.
Taking company financing as well as financing instruments as a basis, the processing of a private placement and the financial communication after going public are described in detail. Explanation about the tax-related basic conditions, the end of the participation and the borrowing will round off this work.
This work suits excellently for financial institutions, insurances and other financial service providers and their corporate customers, especially medium-sized companies.